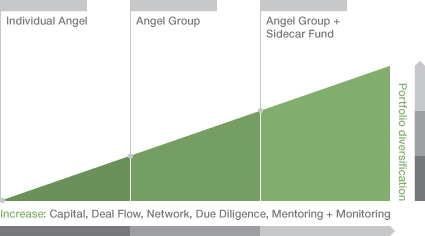 Individual Angel
Small business network & deal flow.
Concentrated exposure.
Limited resources available for due diligence, mentoring, monitoring.
Do not have the negotiating leverage to set ideal valuations, terms & conditions.
Notwithstanding these challenges, the vast majority of angel investing is undertaken by lone angels.
Angel Group
Large business network & deal flow.
In this model, angels work collaboratively, although investments are done individually and are therefore not generally diversified.
Share deal flow, due diligence, negotiate as a group and employ combined capabilities and network to rapidly grow companies in which they have invested.
Angel Group + Sidecar Fund
Sidecar fund investors benefit from the contacts, deal flow and resources of the Angel Group while mitigating investment risk by pursuing a diversified portfolio investment strategy.
In the Sydney Angels Sidecar Fund, the Limited Partners have no tax liability due to the ESVCLP structure.